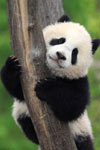 Mammals and Melodies
Price from $ 124.50
A visit at the Vienna Zoo Schönbrunn together with a nice dinner at Tirolergarten and then a classical concert at Schönbrunn Palace is a great day out for the whole family.

Schönbrunn has many faces - among others, a very family-friendly one! This package focuses on visiting the zoo and attending the Schoenbrunn Palace Concert afterwards at Schoenbrunn Palace Orangery. This package also includes dinner at the cozy restaurant "Tirolergarten" located inside the zoo. We have also included a taxi transfer to the Orangery, so you can comfortably get to the concert without having to rush.

At 6:30 PM: Dinner is served at Tirolergarten, a typical Tyrolean farm rebuilt not far from Schönbrunn's landmark Gloriette. A delicious three-course dinner for children and adults awaits you. After dinner, a taxi will pick you up at Tirolergarten, so you can comfortably arrive at the concert on time.

At 8:30 PM (doors open at 8:00 PM): The concert takes place at a location that played an important role throughout Mozart's career: the elaborately restored Schönbrunn Palace Orangery. The musical performance is by the renowned Schönbrunn Palace Orchestra Vienna, accompanied by vocalists and ballet dancers. The program is by J. Strauss and W.A. Mozart.

You find the Schönbrunn Palace Orangery's seating plan here. You can choose between four categories of tickets: VIP, A, B og C, refering to the front, middle and back of the auditorium respectively.

Important Information:
- Shortly after your booking is complete, you will receive Your e-tickets via e-mail. Please print out your ticket and bring it with you to the zoo.
- You can exchange your e-tickets and start visiting the zoo from 9:00 AM. Your ticket is only valid on your booked tour date. We recommend you start your tour no later than 3:00 PM.
- The concert duration incl. intermission is 1½ to 2 hours, and ends approximately 10:15 PM.
- During the concert intermission, Category A guests will receive a glass of complimentary sparkling wine or orange juice at the bar.
- After the Schönbrunn Palace Concerts, taxis will be available right outside Schoenbrunn Palace Orangery. The subway runs until midnight in five-eight minute intervals.
Mammals and Melodies Info
Mammals and Melodies
You must collect your tickets at this address from 09.00AM on your booked date!
Ticket Collection Address:
Orangerie Schönbrunn Palace
Schönbrunner Schloßstraße 47,
1130 Wien
Info
Mammals and Melodies
The Vienna Zoo is open from 9:00 to 6:30 p.m. We recommend that you start your visit no later than 3:00 p.m. and you can of course stay at the zoo until dinner! From April to October!
Directions
Directions
U-bahn Schönbrunn Station



View map