Tickets to Vienna
Welcome to ViennaTicketsInternational.com, the site for you who like tickets for classical concerts, attractions or sightseeing in Vienna. At ViennaTicketsInternational.com you can easily book tickets for The Spanish Riding School or classical concerts at the Orangery Schloss Schönbrunn and Hofburg Vienn and enjoy the famous tunes from Mozart and Strauss. You can also book sightseeing tours in and around Vienna or on our Hop-On Hop-Off buses.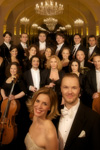 Schönbrunn Palace Concerts
Classical music performed live in concerts at Schoenbrunn Palace Orangery in Vienna with program by Wolfgang Amadeus Mozart and Johann Strauss. Book tickets for Schönbrunn Palace Concert at the Orangery in Vienna here!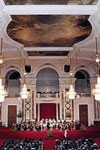 Vienna Hofburg Orchestra
Hofburg Orchestra in Vienna, the Music Capital of the World, is an unforgettable Viennese evening with Johann Strauss and Wolfgang Amadeus Mozart. Book tickets for Vienna Hofburg Orchestra here!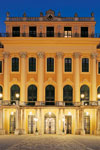 Rendezvous with Mozart
Rendezvous with Mozart at Schönbrunn Palace in Vienna is incl. a visit at the Palace, a nice dinner at Café-Restaurant "Residenz" and a classical concert with Schönbrunn Palace Orchestra Vienna. Book your tickets for Rendezvous with Mozart in Vienna here!
English helpdesk

(855) 325-0977
Need help with your booking?
We will gladly answer your
questions.