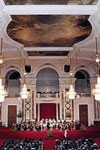 Vienna Hofburg Orchestra
Price from $ 88.40
Quite rightfully, Vienna is called the Music Capital of the World. The unique possibility to see the Imperial Palace (Hofburg) is to attend a concert of the Wiener Hofburg-Orchester.

It is a pleasure for Wiener Hofburg-Orchester to offer its guests an unforgettable Viennese evening with the famous and beloved compositions by the "King of Waltz", Johann Strauss, as well as arias of operas by W. A. Mozart in the wonderfull atmosphere of Vienna's Imperial Palace (Hofburg). Performing will be an orchestra consisting of about 40 professional musicians and international soloists of the Vienna State Opera.

An example of a program could be something like this:
Wolfgang Amadeus Mozart: Overture to "The Marriage of Figaro", Papageno-Papagena from "The Magic Flute", Violin Concert G-Major, duet from "Don Giovanni", Turkish March and aria from "The Marriage of Figaro".

Johann Strauss: Emperor's Waltz, Eljen a Magyar, Polka, aria from "The Gypsy Baron", Viennese Blood, Waltz, Blue Danube Waltz and Radetzkymarch.

Duration: 1½ to 2½ hours incl. intermission.

Important information:
- Shortly after your booking is complete, you will receive an e-ticket by mail. Please print out your ticket and bring it with you on the tour.
- The doors to the concert hall opens at 7.30 PM.
- Depending on the concert dates, Vienna Hofburg Orchestra performs in either "Redoutensaal" or "Festsaal" within Vienna's Imperial Palace (Wiener Hofburg), or at Börse Palais.
Vienna Hofburg Orchestra Info
Vienna Hofburg Orchestra
Wiener Hofburg
Redoutensaal or Festsaal
Heldenplatz 1
A-1010 Wien

Info
Vienna Hofburg Orchestra
Every Tue., Thur. & Sat. at 08.30PM from May to October.
Directions
Directions
U-bahn to Herrengasse or Volkstheater Station



View map